And what does he want with Grays Harbor County?
by Fox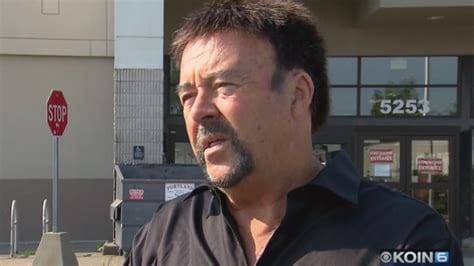 Terry W. Emmert is an American capitalist from Clackamas, Oregon, a suburb of Portland. He is the founder and owner of Emmert International, an engineering and transport service company, the International Basketball League's Portland Chinooks and the Portland Thunder professional Arena Football League team, and has been hoarding properties in various communities such as Portland, Grays Harbor, and patches of Texas all of which are inside what is known as an "Opportunity Zones".
An Opportunity Zone is a designation and investment program created by the Tax Cuts and Jobs Act of 2017, and signed into law by President Donald Trump, allowing for certain investments in lower income areas to have tax advantages. To qualify, the Opportunity Fund must invest more than 90% of its assets in a Qualified Opportunity Zone Property located in an Opportunity Zone. The property must be significantly improved, which means it must be an original use, or the basis of the property must be double the basis of the non-land assets. Capital gain taxes are deferred for investments reinvested into investments in these zones and, if the investment is held for ten years all capital gains on the new investment are waived.
So long as Terry Emmert maintains the illusion that he is investing into our city and "fixing" these properties up, he is allowed to use them as tax shelters to write off millions of dollars in taxes, taxes that would be going into your schools, your roads and infrastructure, your hospitals, your social welfare services like food stamps, Medicaid, treatment facilities, and yes even your police. All of which, well most, are things that are certainly needed to help lift our people out of poverty. This callous hoarding of properties also hurts the local economy as no businesses can afford his exorbitant rent prices, and other local landlords are able to raise their rents nearly or just as high due to the artificial scarcity being created by Emmet's capitalist mindset of infinite monetary growth. These actions further entrenching our communities in poverty that will have ripple effects of crime and gentrification for years to come.
Gentrification is the process of changing the character of a neighborhood through the influx of more affluent residents and businesses. It is a common and controversial topic in urban politics and planning. Gentrification often increases the economic value of a neighborhood, but the resulting demographic displacement may itself become a major social issue.
When we first wrote about Terry Emmert he owned 45 properties around Grays Harbor County. His assets have grown in that time between June and today to 62 properties. Most are commercial properties in downtown Aberdeen. He owns the majority of empty buildings around town that could be housing our homeless community instead of sitting as tax shelters for this shady character. But who really IS Terry Emmert? Most of what we have found written on him have been tepidly critical of his lavish and flamboyant lifestyle and brash behavior, but very little has been written about his business practices, his court record, or his personal acquaintances. We spent months assembling this article outlining a small man with a big wallet. Famous for moving heavy objects, will Terry Emmert be able to move the public's perception of him from shabby jerk, to small town hero?
Did you want to buy some property in so called Grays Harbor county? Too late!! Terry bought it all. And at half price too. And he's far from done by the looks of it. His realtor, David Quigg & Co, have found him deal after deal and negotiated incredible bulk buys for this high paying client. The average house sells for 17% more than list price these days, according to Redfin's 2021 Housing Market Update. That's list price, not assessed value, which is on average far less than the market price. Terry Emmert on the other hand has been able to secure the vast majority of his properties at about 30-40% BELOW assessed value. When having more money to your name allows you to spend less on property that will in turn allow you to spend less in taxes while poor people struggle to live on our streets another winter, its plain to see who public policy is written for. Below you can see his multitude of properties as of the date of publication. This list is an ever growing shrine to his cancerous greed.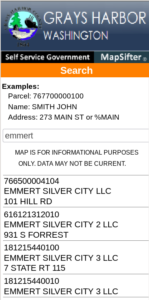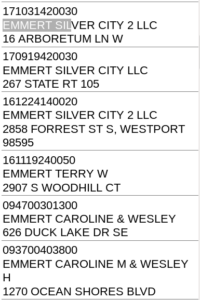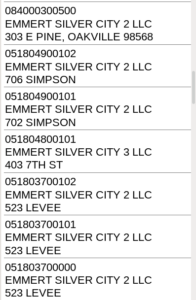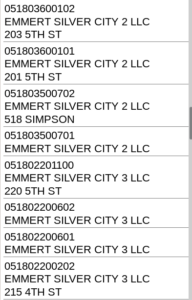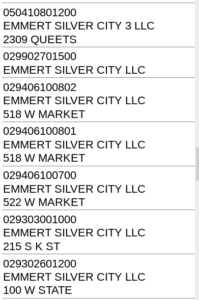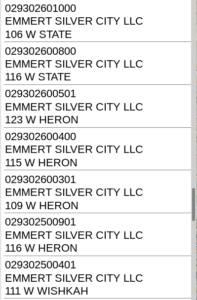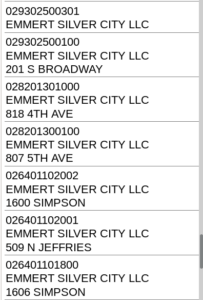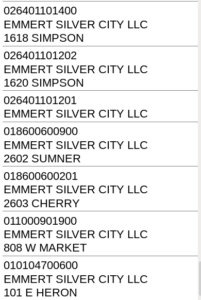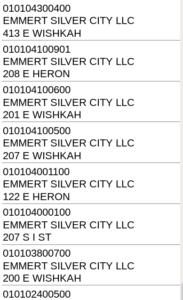 If Emmert's conquest to landlord over our entire community is not impeded and reversed all the associated public health issues, that are the result of newly homeless populations displaced by Emmerts obscenely high rent rates, will continue to worsen.
Community leaders will seek to correct the woes caused by Capitalist investors such as Terry Emmert, but they will fail to do so as they attempt to solve the problem by bringing in more of the very thing that caused it, venture capitalists.
As venture capitalists such as Emmert continue to hoard property in our city in this manner then the inevitable displacement of the very families that call this place home will happen two fold:
The poor will be forced out of the area or onto the streets as rent skyrockets and the lack of jobs paying a livable wage decrease from very rare to non existent.

Then even the home/business owners are forced out of town or onto the streets as they are out competed by venture capitalists with more money to bully the community and city hall into accelerating this process of gentrification

.
As the city looks to bring in more outside investments into the community by venture capitalists under the guise of revitalizing the city, or gentrification, displacment of what few local businesses we have left will follow. In order to start having business that can meet the high demands of these empty properties, they are either evicted for new businesses or out competed by multibillion dollar companies. As the last of what's left our original community is pushed to the streets, and the housing crisis reaches it's peak the venture capitalists that have come to own the town in deeds and on city council will begin to enact their own solutions to the homeless epidemic. They will resort to even harsher punishments mimicking those of our current gentrifies in city hall who collude with Terry Emmert now. For those who dare to be poor and ruin the image of the tourist trap they are trying to make out of our community as they turn it into their corporate empire will surely suffer.
Terry's investments in our county are not without their own inherent risks. There's so many ways these things can go badly for these speculative investors. Not being a member of the community, and making such public moves as Terry has done, his public image matters a great deal to the residents here. What if he cant find tenants? What if no one will rent from such a slimy capitalist? What if property values start going down? Local crime, vandalism, property damage…there's a lot to consider before making an investment of so much money. There are always inherent risks to investing and buying up a whole town is bound to pose its own set of challenges. Terry has to improve the properties and show a new use of them, and yet almost everything he owns is sitting as vacant as ever, as derelict as ever. His actions has had zero positive impact in this community. In fact the lack of available spaces for rent, lease, or sale has become a real issue for those wanting to have businesses located in downtown Aberdeen.
This man Terry, who owns eight ranches and a collection of vintage basketball courts, has been snuggling up to the local power structures for some time. Crafting lucrative below market real estate deals through local agents, gaining the local connections to bypass all the pesky bureaucratic hoop jumping, you or I would face. He's already renting out the decrepit Becker building without even a working fire suppression system. With approval from the local far right and liberal politicians alike it seems like anyone who wants to do anything in our town will now have yet another rich and powerful person to go through.
To be clear, this man has NO INTEREST in building our community, he doesn't belong to this community… An outside investor – with quite a backstory – now owns an alarming amount of real estate in our town. There seems to be no pattern to his purchases beyond simply owning as much as he can. As mentioned he hasn't had any positive impact on our town, and conversely has been downright harmful. These buildings have sat empty and unused for long enough, it's time the people of Aberdeen stand up and take back these valuable resources for the community.
We FULLY oppose Terry Emmert's takeover of our town for either speculative investing or for gentrifying development. We need housing and community programs, NOT some uber rich playboy from Oregon buying everything in sight so he can flip it for a massive profit once the planned levee project goes through.
Terry Emmert is well known bordering on infamous in his hometown of Portland. He owns a racquetball court in Eastmoreland, an affluent neighborhood in i
nner southeast Portland, that was the subject of a lawsuit against the city brought in 2015, by neighbors of his tennis club, who complained that he was illegally host basketball tournaments bring in unwanted amounts of traffic to the area.  From the Willamette Weekly:
In March, a city hearings officer agreed, ruling that Emmert didn't have the right under city code to use a neighborhood tennis club to host sports tournaments.

But nothing changed. The controversial events  have continued. Neighbors say city officials are afraid to crack down on Emmert, a Clackamas County heavy-hauling magnate notorious for battling city and county bureaucrats in court.
He has been accused of emptying the pool from his club into the nearby river. He has sued many people including
Clackamas County
for $40 million dollars in 2013 for allegedly denying him his "legal rights to sell and/or develop" his properties. This was over a verbal arrangement he had with the County Commissioners in regards to a highway expansion project to alleviate Portland traffic. According to The Oregonian the county spokesperson said, "The county has provided many benefits and reasonable accommodations to help grow and expand his businesses. Many of the commissioners meet regularly with Mr. Emmert to discuss issues of concern and to keep open lines of communication. Commissioners are disappointed in this lawsuit. Clackamas County intends to zealously defend these claims." So despite all his privileges previously granted to him by the county he sued them for $40 million dollars.
Besides inducing traffic woes he also has inhibited the free movement of Portlanders by fencing off access points to popular public areas. In 2020
BikePortland.org
wrote that, "A property owner's effort to curb crime has resulted in the loss of an access point to the Marine Drive bike path." Remarking that, "This isn't the first time one of Emmert's properties has intersected with the issues of public access and crime on a popular bike path. In 2012, as owner of the Eastmoreland Racquet Club,
Emmert caused an uproar when he closed a popular access point to the Springwater Corridor
."
The most comprehensive report this far has been by the Willamette Weekly who wrote in 2014 about Terry Emmert's personal life, sending a reporter to interview him. What turned out to be a slyly critical article on this dirtbag mentions these public controversies and also how Terry is not a stranger to the courts system in his personal life either. He has been sued by multiple people in his employ and business partners too. From the Weekly article Touchdown Terry, "
His court record is littered with lawsuits, fines and penalties.

The state of Oregon has fined him for allowing his water buffalo to defecate in a creek that feeds into a salmon and steelhead habitat. Emmert paid the fine, but maintains the fecal pollution was left by 3,000 Canada geese.

In 2007, his business partners in a Washington County development deal sued him for letting the bank foreclose on their land, then buying it out from under them. That case is still in court; Emmert says it has no merit.

Two years earlier, Emmert settled a lawsuit alleging he and his partners bought a house that had been used as a meth lab, didn't clean it up, then rented it to a single mother and two children. Emmert says it wasn't a meth lab, and the renters were suing to get his insurance money.

One of his in-house attorneys sued him for sexual discrimination—he countersued, and the case is on appeal. Another employee gave a sworn statement that Emmert once fired a secretary because her younger replacement "will really give us something to look at." (He denies any gender discrimination.)

Another Emmert employee, Michele Matesi, told Clackamas County Sheriff's detectives in 2001 that Emmert pointed a silver revolver at her face and threatened to kill her.
Ken C. Bauman, a former assistant United States district attorney who has known Emmert for more than 50 years now serves as his attorney. He owns a herd of more than 400 water buffalo on ranches outside Oregon City, as well as a slaughterhouse and meat-packing plant in Sandy.
"The only reason I bought that slaughterhouse," Emmert has been known to say, "is that it has a 2,000-pound incinerator. And you can fit 10 200-pound attorneys at a time."
So this is the man who brings his greedy LLCs to our town to buy everything he can. Some people will say, "But he bought the properties and that's his right" but is it? Is it right to use your wealth to influence the housing market so you can get sub-market real estate deals while the rest of us see values rise to unaffordable levels? Is it right to joke about shooting homeless people for fun, and casual blame the homeless for the lack of renters in his buildings when he is now directly responsible for creating those conditions of poverty? We think not. We hope to help cultivate a strong movement of diverse tactics against all millionaire investors like Terry Emmert and his acquisition of our town. We will do whatever we can to resist his plans for us, and as always, the local fascists cozying up to him. In this vein you can expect much more reporting from us on his activities both in our community and in his own life.
Let's consider, what tactics would best illuminate the threat posed by this type of gentrification? What best helps to mitigate it? As always let's keep our tactics diverse and creative. Without class solidarity we will continue to fight among ourselves for scraps while the rich buy up everything possible at pennies on the dollar, pay workers starvation wages, then turn around and charge astronomically high rents. There is no housing crisis, there is manufactured scarcity. There is only a capitalism crisis, and grassroots resistance is the only way to stop this incursion of vapid, useless wealth into our community.
We are always accepting anonymous tips and leads for this story, just download Signal messenger and use
bit.ly/sabottipline
to get in touch with us securely. You can also email us with any encrypted email service at sabot_media@riseup.net. Thank You.